Category Archives for Uncategorized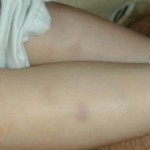 Blood clot, which is also called thrombus, is a result of blood coagulation process in the so-called hemostasis. Possible causes include thrombosis and injury, wherein there is reduced blood flow. People are subject to increased risk of this medical problem if they have deep venous thrombosis, heart valve replacement as well as atrial fibrillation. Moreover, even disease-related and genetic deficiencies are possible to cause clotting. Here are some of the blood clot symptoms, treatments and diagnosis. Signs...

Treacher-Collins syndrome is a hereditary condition that causes facial defects. Another name for this is Mandibulofacial dysostosis Treacher-Collins syndrome is caused by a defective protein called treacle. The condition is inherited as an autosomal dominant trait. In about 60 per cent of cases there's no family history and the condition is due to a new mutation of the gene. In such cases, there's only a tiny chance that a second child with the condition will be born to the parents, but...